eCommerce is booming, with no signs of slowing down. , There has never been a better time to start an online shop. One of the best eCommerce platforms to build your store on( and our platform of choice ) is Shopify. Shopify's praise is partly due to its affordability, scalability, ease of use, out-of-the-box security, and the variety of paid and free themes. With all these themes at your fingertips, you can create a unique online store with a customer-friendly user experience.
Picking which theme to stick with might feel overwhelming for some, as there are many good ones to choose from! In this article, we will be going through the holy trinity that your store needs to succeed, namely Conversion, Speed, and SEO – and which themes will help you achieve this.
Top Shopify Themes for Conversion, Speed and SEO
#1 Minimog
Minimog is one of the most popular paid Shopify themes – and for good reason. The theme includes features that are essential for all Shopify store owners, allows you to sell any type of product online including jewelry, clothing, electronics, sports, footwear, etc. 
Foxkit + Minimog
Fox Kit is an exclusive app for Minimog theme owners. Fox Kit App helps Shopify merchants achieve higher conversion rates and revenue with the same traffic. It helps turns prospects into buyers and one-time shoppers into loyal customers. Foxkit combines features of a handful of third-party apps that you probably would have had to paid for on top of your theme's cost. These features include product bundles, quantity discounts, up-sell offers, back-in-stock alerts, and much more.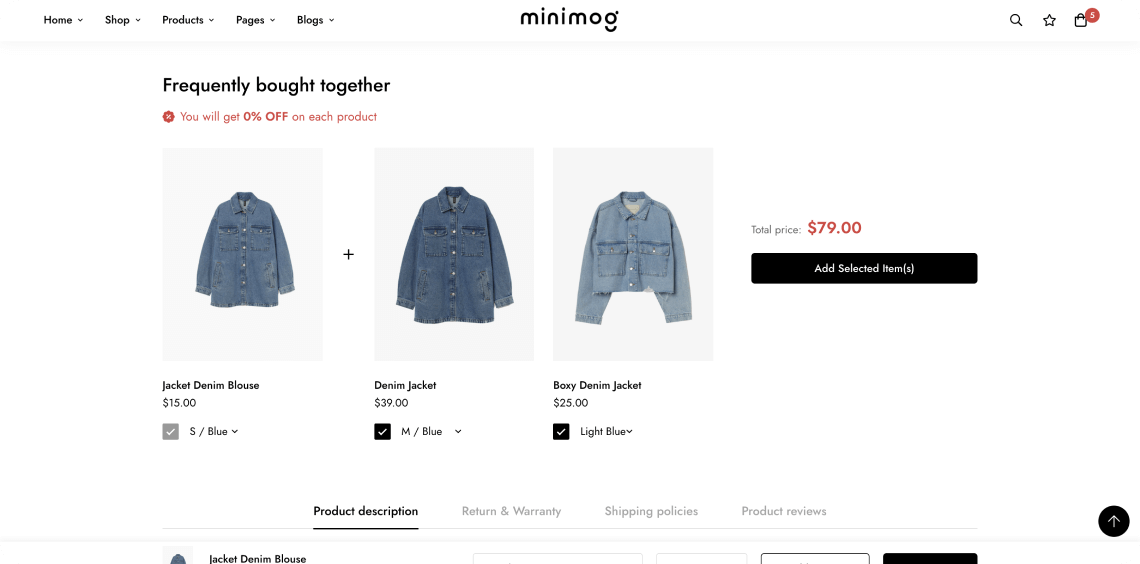 Minimog is a dream for both Shopify merchants to develop their stores on, and for customers to browse too. Purchasing Minimog isn't just buying a theme, as you get a whole package of free powerful plugins, unlimited updates, and dedicated services, including around-the-clock live chat support.
#2 Out Of Sandbox's Flex Theme
Flex prides itself in being the 'most customizable Shopify theme' – and they put their money where their mouth is! Flex is unlike any other theme – offering multiple layout and section options and the easy addition of custom CSS, plus 13 unique style variants out of the box to get you started. Flex gives you full control over the look and feel of your store.
To fully understand how Flex is different to other themes, let's check out how Shopify themes work.
How do Shopify themes work?
When you install your theme it comes with a CSS file created by your theme developer that provides a lot of that functionality and styling that you can simply toggle. When you're in the theme making customizations in Shopify like adjusting templates, sections and blocks, those controls that you're moving around such as specifying a font size is actually affecting the CSS file that that theme is generated for you. Now back to the Flex theme. Flex has a ton of templates, it has a lot of sections, and it provides a lots of control.
You can select various font sizes, button colors, spacing and margins and animation settings. With the Flex theme, we now get a lot more control than with any other theme in a Shopify store. You can also choose to specify these at the template level, at the section level, or at the block level. Whatever theme you're using currently when you open it up in theme customization, you'll find a menu that gives you, let's say five or ten different options that you're making decisions on to adjust the layout of the page. When using Flex, that amount of options will easily be doubled or tripled.
Conclusion
Choosing a Shopify theme that fits your goals will help you manage your website more efficiently and outperform competitors. If your design does not attract customers, or your customers find it challenging to search through your store, they will turn to another website.
There are loads of fantastic Shopify themes available on the market today. We have narrowed down the best ones for you; now it's time to pick and start your eCommerce journey!
Subscribe to Our Newsletter
For the latest news updates, in-dept reviews